I was emailing earlier today with Drew from
Eden Fantasys
and he asked if I'd be interested in helping to promote their Sex and the Suburbs columns on their online magazine, Sexis.
I was all, Sure, sounds like my kind of column!
And then he sent me the link, and I saw the topic, and my head hit my desk while I simultaneously clenched and blushed. And I'm still fumbling over what to say, so, well, just check it out if you are interested...or curious...or have a drawer full of lube you want to use up.
I dare you!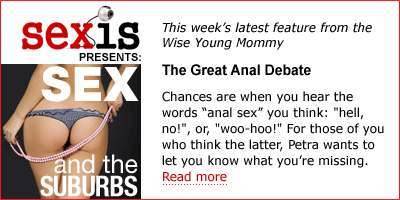 BlogHer posts coming soon!